More than $1m worth of free dental services has now been delivered to local communities where access to care is limited, thanks to a missionary organisation whose volunteers say they are "just getting started".
YWAM Ships Aotearoa (Youth With A Mission) began using their mobile units 18 months ago to treat Bay of Plenty locals in urgent need of dental care after Covid -19 prevented their Tauranga-based medical aid ship, m/v YWAM Koha from sailing to remote Pacific Island villages to fulfil its original mission.
What became known as the 'Trinity Koha Dental Clinic' has subsequently treated 1882 patients from across the Bay of Plenty, Waikato and East Coast (including Katikati, Judea, Bethlehem, Papamoa, Kawerau and Rotorua). Patients were able to give a koha, but there was no expectation to pay.
"We go by invitation where there is great need for urgent dental care," explains Team Leader Sue Cole, who is a retired dentist.
"We partner with those already working in health, social services, the local church or marae and are already providing wrap-around support. Together we prioritise treatment for those whose dental state and pain level impacts their ability to eat, sleep, talk and their self-confidence or ability to apply for a job."
At times the free service has been life-changing as patients enjoy relief from pain, renewed confidence or the ability to smile again.
Free dental care being delivered in Ruatoria.
"One woman who had a front tooth restored exclaimed to me through her beaming smile, 'now I know I can get a job.' Patients have been remarkably resilient, tolerating high levels of pain or long-standing pain," Sue explains.
"Many have tried to extract their own teeth. One patient even wanted to video his extraction so he would know how to do it himself properly next time!"
Clinic Co-ordinator Andrew Davis says each location and individual faces different barriers to accessing dental care – not just financial barriers. In some towns, dentists are fully booked for months. In others, such as Ruatoria and Te Kaha, geographic access is difficult.
"Each of the 1882 patients treated has a story of how access to dental care is difficult. In addition to finances, fear of dentistry though past experience and shame can be barriers," Andrew says.
The Trinity Koha Dental Team tries to minimise these barriers by taking their mobile service to the people. They set up in a familiar environment and have a support team of volunteers who provide care, administration, support, post-operative instruction and follow up calls.
"Over 100 people have volunteered from all over New Zealand this year," Andrew says.
"This includes 28 volunteer dentists contributing 770 hours of treatment. They love being able to come and serve without having to worry about finances and to give something back." Many dentists have come through the Waikato Bay of Plenty branch of the New Zealand Dental Association.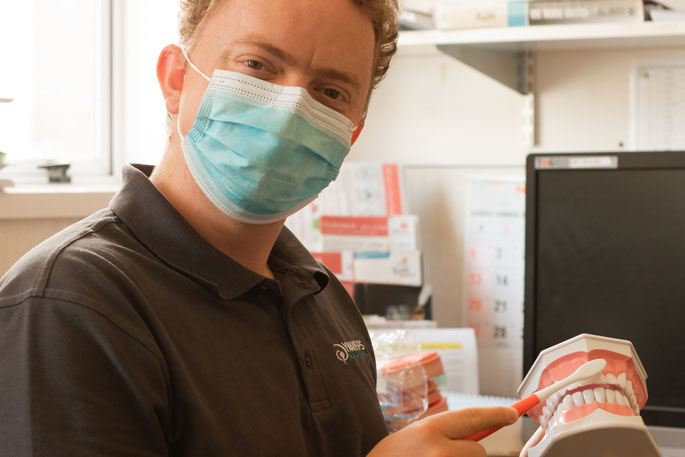 Vaughan Austin developing oral health communication skills.
As well as partnerships with dentists and community organisations, the clinic works in collaboration with others. Trinity Lands, YWAM's platinum partner, has provided significant funding along with TECT and BayTrust. Gifts in kind have been received from dental companies (including Ivoclar and Waymaker Burs), plus individual donations.
"McLeod Hiabs has been so generous in helping with transporting the dental container to various locations in the Bay of Plenty," Andrew says.
Trinity Koha Dental Clinic plans to continue to increase dental services in 2023 to those in urgent need by helping overcome barriers to dental care, depending on the availability of dentists. In 2022 they ran 12 weeks of clinics and they hope to increase this in 2023.
They also aspire to advocate for increased grassroots oral health awareness.
"We want to walk alongside those who take responsibility in their communities and whanau to encourage healthy eating and drinking for a better oral health future. Parents, grandparents, teachers, community workers, health workers and influencers can all work together for better dental health outcomes for the next generation."
Clinic organisers are keen to hear from any individuals or businesses who would like to support this aspirational goal via email (dental@ysa.nz).
"We are always in need of more volunteers and funding to enable us to remove the barriers to access to dental care in our communities."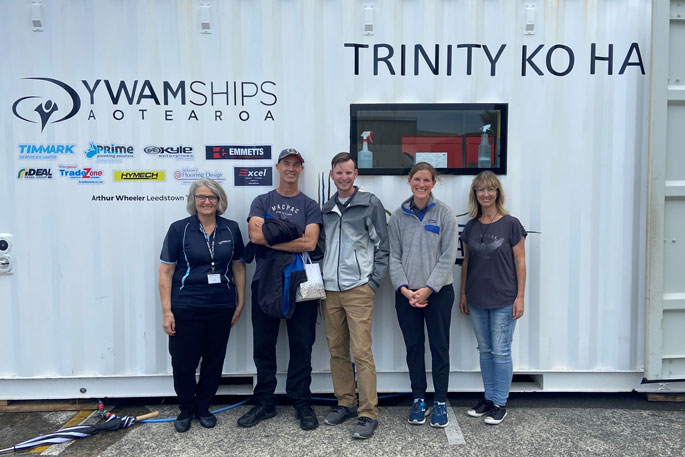 Clinic team at Lifezone Church in Tauranga.