Jodie Claridge has just opened the dental box in Southborough. Eileen Leahy meets the business entrepreneur to find out why this state-of the-art dentistry practice is at the cutting edge…
Luxurious Soho Home furniture, smart Amtico flooring, silk orchids and glossy marble detailing is not what you'd associate with walking into a normal dental practice but then that's exactly what the co-founder of the dental box, Jodie Claridge, wants you to feel when you enter her stunning new premises on Southborough High Street.
Located in the building opposite the new Southborough Civic Centre, the dental box has just opened its shiny doors to the general public after months of it being painstakingly developed and designed to Jodie's exacting – and highly impressive – standards.
"I've had a vision for creating this type of dental and orthodontist practice for a long time. One of my key aims was to make the experience feel as luxurious as possible," explains Jodie as we sit down on one of the aforementioned designer chairs and begin our chat.
"I started out in the industry in 2008 as an apprentice dental nurse when I was 18 years old," Jodie continues as her clinical administrator Sue serves us cups of coffee in the welcoming reception area which resembles that of a boutique hotel rather than a dentist's.
"After I'd qualified as a nurse I then became a head nurse but I became a locum dental nurse after I underwent jaw surgery," Jodie says. "I didn't know how long the healing would take but as it turns out I only had two weeks off! I've worked in almost every dental practice in Tunbridge Wells and Tonbridge!"
Jodie says she then 'spread her wings' by going to work in London's Harley Street as a treatment coordinator for a period of time.
"After I left there I created my own marketing and business development consultancy called DevelopDent where we work with numerous dental practices, consulting them on how to improve their business processes, to run their digital marketing, train staff on patient lead nurture. I've also renovated two dental practices."
So it would seem that Jodie is quite the business entrepreneur especially given she is still running DevelopDent alongside the dental box.
"I've taken someone on to assist me with DevelopDent as I couldn't juggle the two. But in essence the whole business concept is we go in, look at how practices are performing and then we build a tailored strategy to help them improve. That can include running all their social media platforms, print & digital advertising campaigns, graphic design and website development."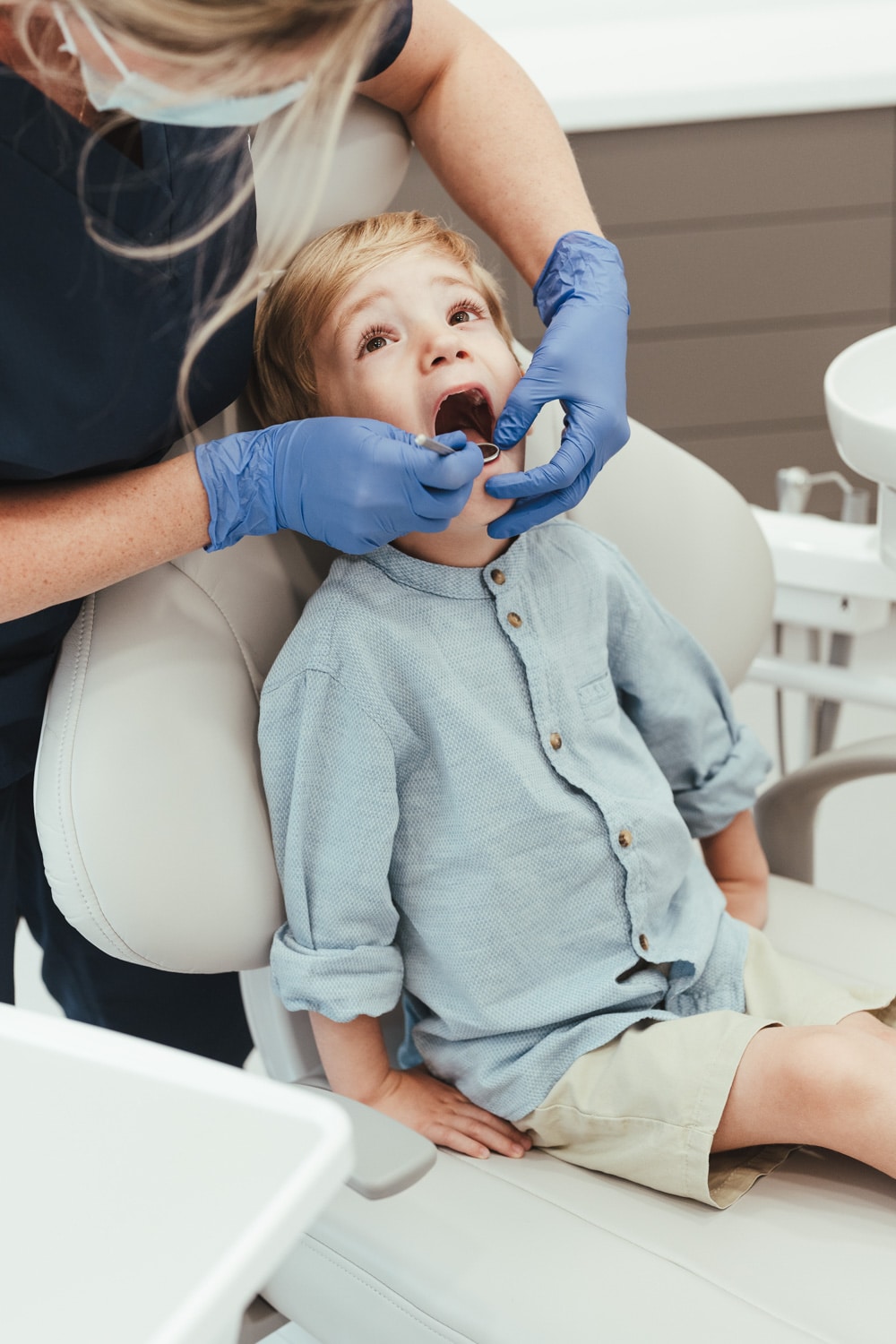 So far, so busy then I say, to which Jodie responds that she's also found the time to get married and have a baby over the past year!
All this hard work is clearly paying off as last year she won a Private Dentistry industry award for the Best Dental Website in London and will be entering the dental box for various categories for 2022.
And as we begin a tour around the new state-of-the-art space, which boasts a private consultation room with iTero scanner, an individual CBCT scanning area, plus one – soon to be three – dental surgeries, and a separate staff room it's easy to see that Jodie stands a very good chance of winning those categories hands down.
But Jodie stresses the success of the dental box will not just be down to her. It's very much a team effort including clinical administrator Sue, and her clinical team Dr Avinash Sharma, Jenna Buttle, Lianne Dobson and Lily Jones and her business partner Anthony Lam who is one of the country's leading specialist orthodontists.
"Sue is my matriarch. She's been in dentistry for years and knows exactly what she is doing. The moment I met Dr Avinash – or Nishi – I knew that our ethics totally aligned. We both knew what we wanted to give our patients:  with the main focus being time. We don't want them to feel rushed and we want to ensure we always offer the gold standard. Being fully transparent and committing to being totally ethical are two other key goals.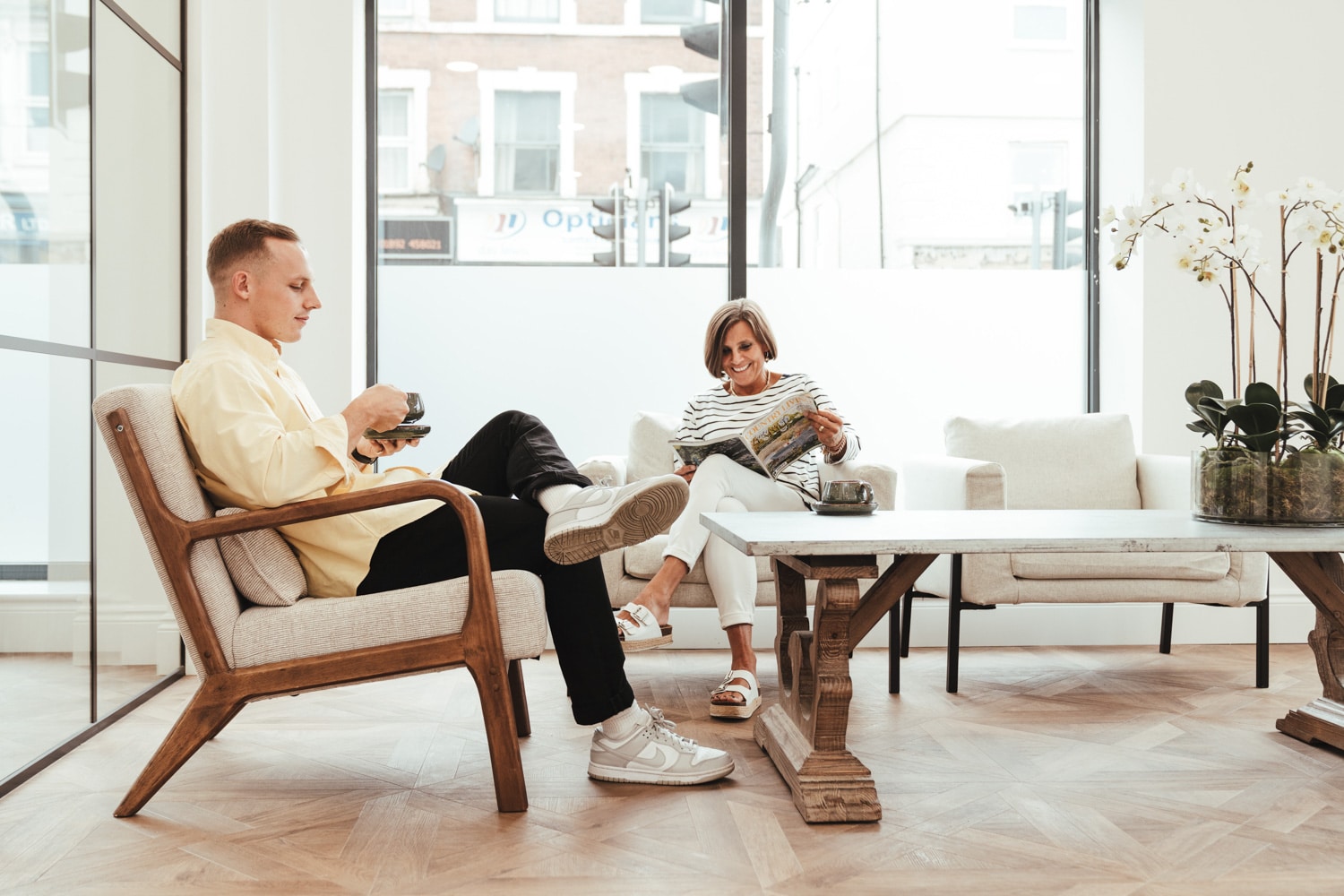 "I had been working already with Anthony in his other practices and I said to him 'if I find somewhere in Tunbridge Wells to set up will you go halves with me?' And he said 'Absolutely. Find somewhere and I will back you.' He trusts me 100%!"
Jodie, who has accrued 15 years of rich experience in dentistry, adds that everyone she has worked with over the years has backed her new initiative.
"As well as Anthony, my former boss, all the nurses, the practice managers, dentists, hygienists – even my tutor who taught me dental nursing – have all been so supportive of this project."
So what is so different – apart from the high tech and stylish décor of course – about the dental box then?
"I want to be totally honest with clients. Whether they are coming in for an initial consultation, a filling or something more complicated like root canal I want them to be able to trust us."
Jodie says that the dental box project, which has been in the pipeline since 2019, offers everything from regular dental check-ups to specialist treatments such as Invisalign and facial aesthetics – and no expense has been spared in terms of the equipment she has invested in.
When I visited- just before it opened – Jodie showed me the cutting edge CBCT scanner she has bought so her staff can carry out in-depth scans – and also offer referrals to other dental practices.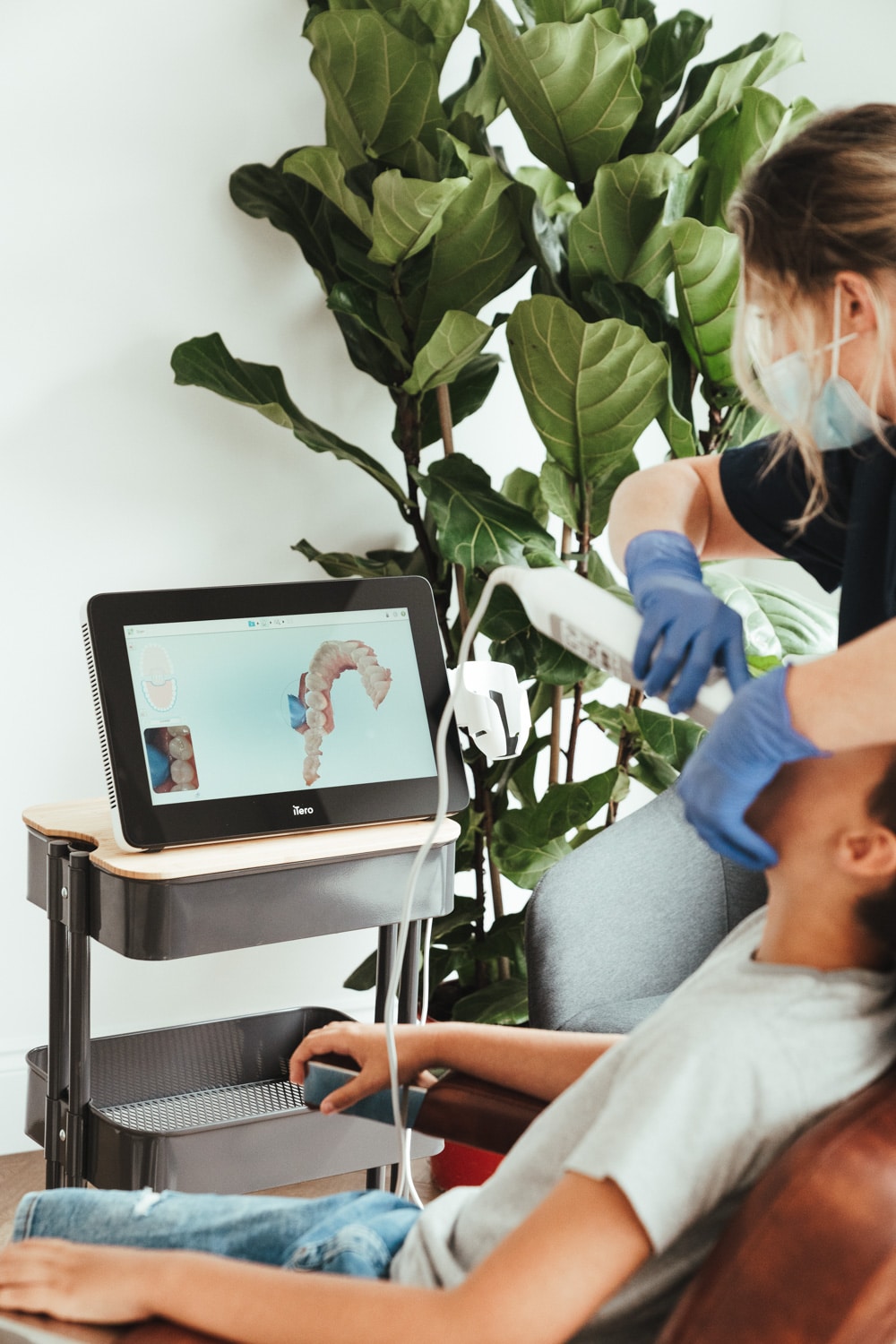 "We welcome referrals from all local practices. Any dentist can go on our website and fill out a referral form. We'll then get in touch directly with the patient, book them in and do the scan then email out to them."
Next, Jodie shows me a dental surgery which, like everywhere else is painted in pale hues with smart LED lighting detailing. They boast a light and airy feel and the best dentist chairs and accessories available on the market. Jodie also reveals she has invested in Covid compliant air circulation and conditioning to keep the air circulating through the premises clean and fresh.
It's clear that this is a passion project for Jodie who tells me that when she spotted the building while sitting in traffic in Southborough three years ago she instantly knew it was the perfect location.
"All over the windows it said 'Could this be your business space?' So I parked up and said 'I want to buy it'. But at the time it was being used as the developer Crest Nicholson's HQ so they told me it wasn't possible.
A corona shaped curveball obviously put paid to things moving on as quickly as she'd liked but late last year things started to pick up momentum again.
"Last October I received an email from Crest Nicholson saying if I was still interested in the building then I'd need to complete before Christmas! I'd just had my baby and thought 'Aagh! But in all honesty the idea had never gone anywhere. I'd never really let go of my dream."
Jodie and her partners completed in January this year and even though she ordered her first high tech dentist's chair in February it wasn't available to deliver until this summer which further delayed things.
"The project has taken around six times longer than I'd anticipated as we've also had to wait for the Care Quality Commission to sign off on things. But now we're open and we are so excited to have people coming through the doors.
"We have had an amazing response so far. People have come in and said 'Wow this doesn't feel like a dental practice' and that's exactly what I want people to feel. I hope clients walk in and feel calm and experience that moment of self-care. That's really important to me. We want it to feel like real value for what you're spending. The appointment will take as long as it takes – there's no sense of being on a conveyor belt here."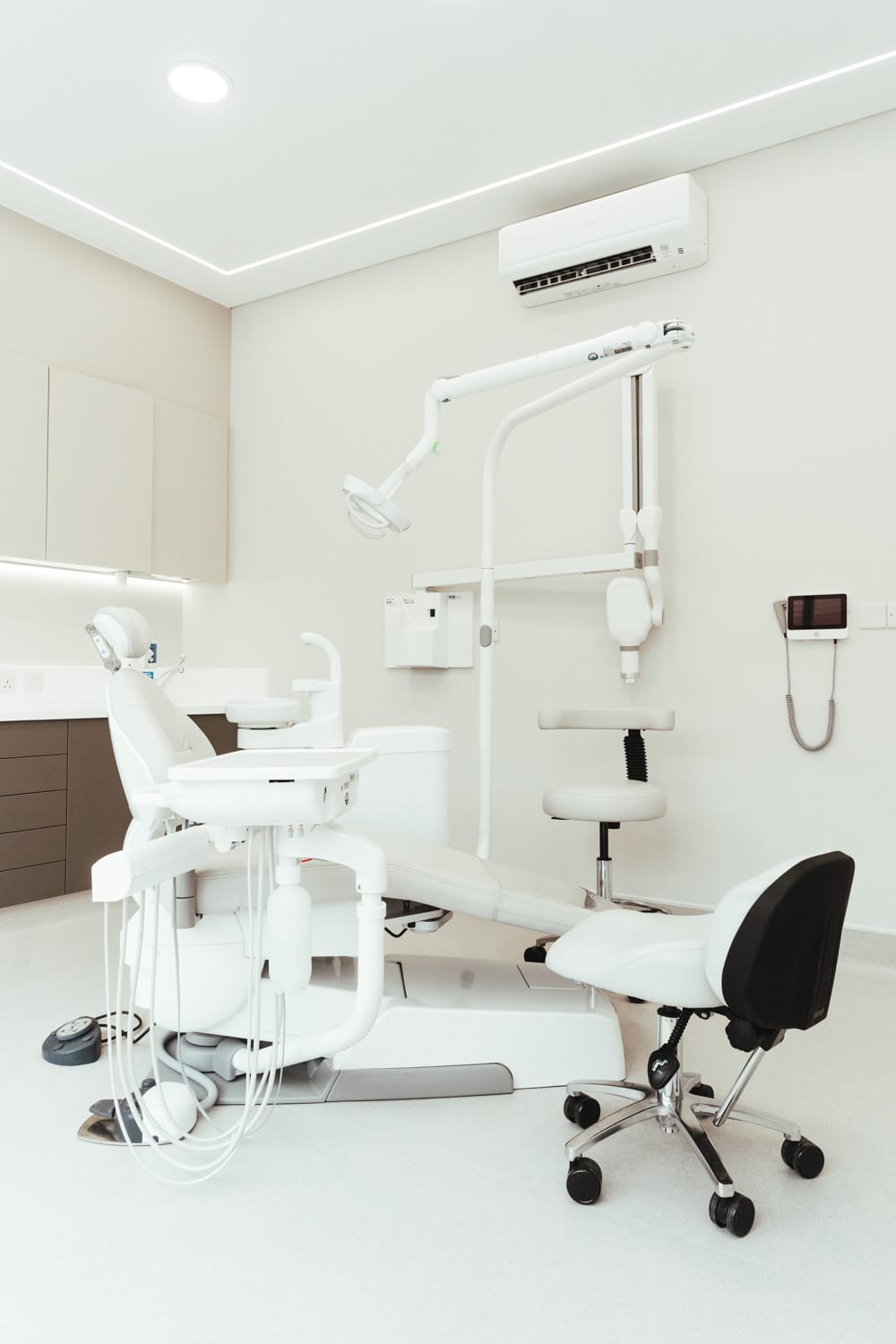 As well as regular hygiene and dental appointments, the dental box can also offer an array of specialist treatments too.
And after chatting at length to Jodie, it's clear the Invisalign packages offered are not only excellent value for money (£4950 including iTero scan, fixed & removable retainers, 2 years aftercare and unlimited aligners and adjustments), but they're also unrivalled. They will be overseen by her business partner Anthony who is one of Europe's leading Invisalign specialists.
"He's accredited as a Diamond Apex Invisalign specialist and is therefore in the top five percent in Europe. He is our lead orthodontist and will write all the treatment plans. He won't carry out all of them but will definitely monitor everything. Our Orthodontic Team will work to his treatment plan prescription and under his direction. To be honest, most orthondontic cases, especially in hospitals and corporate practices, are taken care of this way but it isn't typically common knowledge.
"Here at the dental box we will keep seeing you until you are blissfully happy with your result – you have to be delighted with your treatment. In fact we invite you to be fussy! It's your money, your treatment."
Jodie has also invested in an iTero element scanner which creates a 3D image of teeth in just minutes. The precise technology takes 6000 images per second to make an interactve digital model of teeth and instantly stimulates your predicted Invisalign treatment results.
Before I leave Jodie confides that another 'huge' part of running her business is giving back to the community.
"Whether it's doing oral health sessions at local schools and nurseries or the fact that we are giving £2 for every patient consultation to the Hospice in the Weald, I really want us to give back. We're very visible within the community here in Southborough so I want people to know we are a genuine part of it."
And talking of visibility it's worth noting that although the dental box has a very prominent position within Southborough, clients' privacy is protected thanks to the special branded window films which enable you to look out while you are having treatment but no one can actually see in from the outside.
"That idea stems from creating a practice that doesn't feel closed and claustrophobic," says Jodie. "Eliminating fear from dentistry is another goal for us."
She also reveals that she wants to help rather than compete with other practices in the local area.
"I think we definitely want to offer something different but I do think with things like the CBCT scanner and that we'll take walk-in emergency appointments we can help support others. I believe there's enough room for everybody."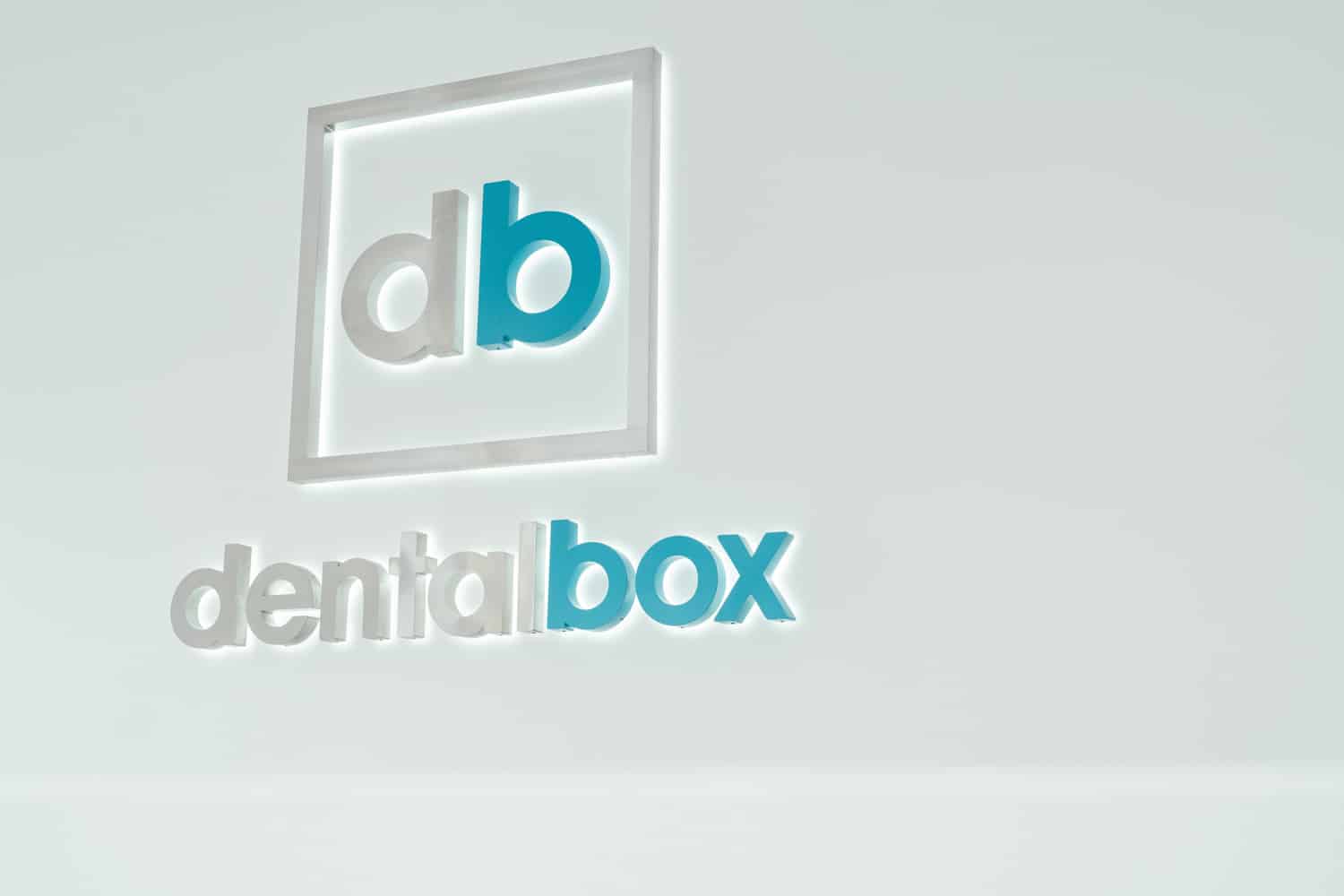 WHAT'S ON OFFER AT
the dental box
OPENING OFFER: New patient assessment just £95 – comprehensive dental exam, oral cancer screen, radiographs, clinical photography, a free aesthetic scale & polish with dentist
EXTENDED DENTAL HYGIENE:  Gum assessment, oral hygiene demonstration, deep scale & polish, plus Free AirFlow Polish
INVISALIGN:
£1000 discount to the first 25 patients that sign up. With Diamond Apex accredited orthodontist Anthony Lam heading up this service clients can be assured of excellent results. Invisalign are virtually invisible, removable aligners which will improve your smile with no wires or brackets
"Here at the dental box we will keep seeing you until you are blissfully happy with your result"
GENERAL DENTISTRY:  A regular check-up is a way of ensuring your oral health is maintained. the dental box offers white fillings, crowns, veneers, composite bondings and teeth whitening. It also offers walk-in, same day emergency treatments.
ORTHODONTICS: This is the alignment of crooked, spaced or poorly positioned teeth and jaws with fixed, hidden and removable braces in a variety of shades.
AESTHETICS:
At home White Dental Beauty Tooth Whitening just £199 (usually £350) The dental box offers some non-surgical treatments including Botox and treatment of fine lines around the mouth area. "Dentists make for great facial aesthetic practitioners as they spend seven years studying the muscles of the face and are very dexterous," explains Jodie.
Join the dental box  for an open day on  15th October 2022
For timings see  www.thedentalbox.co.uk
THE DENTAL BOX'S FOUR KEY FUNDAMENTALS:
To provide honest & transparent care to exude a sense of calm
To deliver a modern luxurious experience
To dedicate as much time to our patients as possible